Customers who stop being customers
Recently I canceled a subscription to one of my online services.
The next day I received the following e-mail from the founder:

I have sent the founder my reply: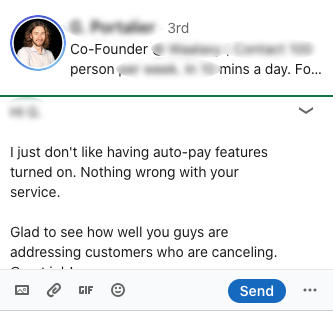 I cancel and stop using tens if not hundreds of services, very seldom will I get a follow up as you see above. It is a very simple, yet very powerful thing to do. You can learn so much from the customers that are leaving by reaching out and having a conversation with them.
To do:
If you are a Business Owner/Product Owner – check your procedures:
What is happening when people cancel/stop using your product?
Will they be contacted? 
How fast?
By a person offering to have a live conversation?
If are not doing it currently, do it and you will be 1 out of 100.